Airwall Teams
Simple, fast, private networks
Create a private
network
in minutes
More secure and easier to use than a VPN
Airwall Teams does the impossible; allows you to build truly private system-to-system networks—that span public, private, cloud, and mobile networks—with just a few clicks using an intuitive graphical interface.
Traverse NAT, firewalls, and other obstacles using our standards-based Host Identity Protocol agents and ignite your team's productivity.
Airwall Teams is a powerful subset of our Enterprise and Industrial network solution, Airwall—and it's free.
Create a private
network
in minutes
Simple segmentation
Create a single network, or several separate ones.
Create a full mesh, or only the connections you need.
Just click to draw connections.
Simple segmentation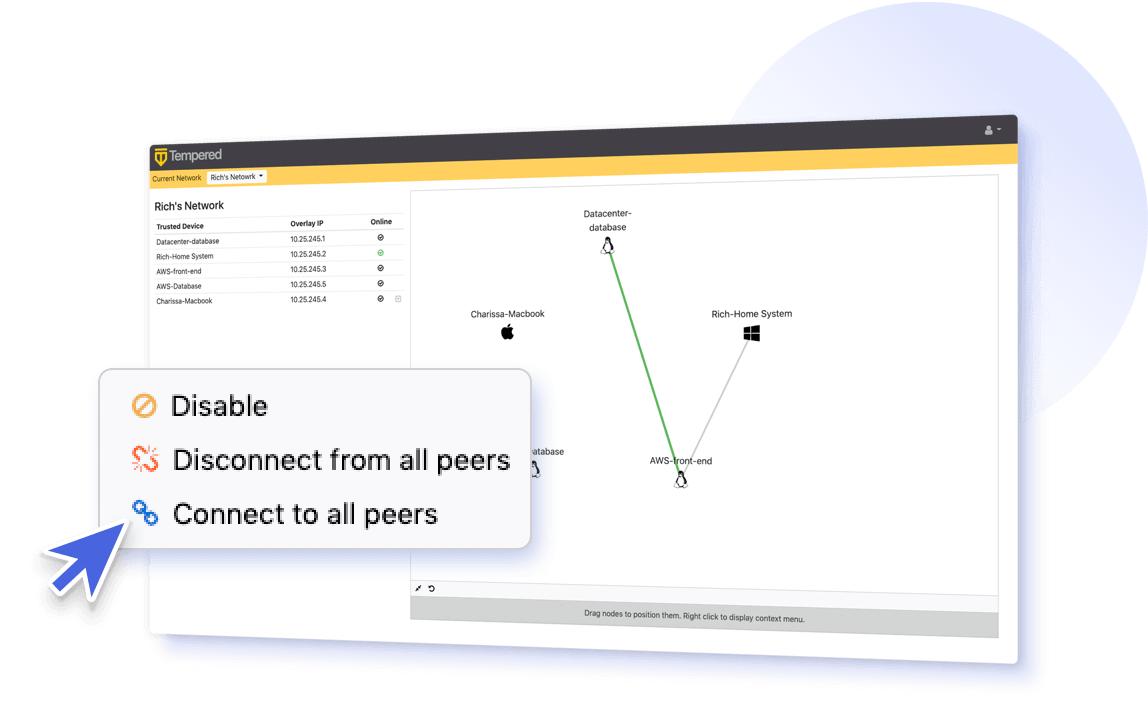 Free for 25 nodes
Airwall Teams simple drag-and-drop interface connects home, office, mobile, and cloud in minutes
Device agnostic
Enjoy seemless connection between Windows, Mac, Linux, iOS, and Android systems
Effortless collaboration
Delegate network access via secure invitation links, and easily switch between the networks you've joined
Learn how to get started with Tempered Network's free private networking, VPN and secure remote access solution, Airwall Teams, in this 7 minute tutorial.
USE CASES
Use Airwall Teams to simplify your remote management solutions.
Get started
Stop adding ACLs for home IP addresses, branch offices, and coffee shops so you can access SSH and RDP
Install Airwall Teams on all your devices in minutes and simplify configuration while massively increasing your security
Keep your team connected to each other and their servers
Get started
Stop worrying about how to connect your team to servers, email , and applications
Keep your team connected and productive wherever they are — onsite at the client, at Starbucks, or at home
Keep connected with home even when you're on the go.
Get started
Easily access files on your home network wherever you are
View home webcams without the privacy concerns of cloud services
Before: lots of complexity and risk

After: simple and secure
Easily connect people and devices for special projects. Here, a marketing team is working on the website from home.
Quickly connect to office resources when on the go. Here, a security consulting team is collecting data at a customer site.
Create your
free Airwall Teams
2
Install Airwall on your devices.
Available for Windows, Mac, Linux, iOS, and Android systems.
3
Connect to your network.
Invite friends and colleagues to join your private Airwall network.