Healthcare and Public Health
The Problem
Healthcare organizations are the perfect convergence of heavily regulated IT security networks, hundreds or thousands of operational network-connected endpoints such as patient monitoring systems and diagnostic systems, and commercial real-estate firms with complex access requirements.
Managing flat and open business networks can expose healthcare providers to external threats and malware. Ensuring equipment, physicians, caregivers, and third-party contractors can securely connect and be given limited access can be extremely problematic. Across a multi-site healthcare organization, securing critical systems and teams can be incredibly complex and costly.
The Tempered Solution
Airwall can be deployed to protect third-party managed laboratory equipment, devices and staff across all hospitals and regional clinics. In addition, as critical equipment and systems are upgraded, they can be securely connected and easily managed. Airwall can be deployed to remote clinics in rural communities to ensure secure connectivity to a hospital network.
Hospital networks now can effectively segment access and visibility for users, equipment, servers and the cloud. Network attack vectors can be eliminated with a significant reduction in CapEx and OpEx.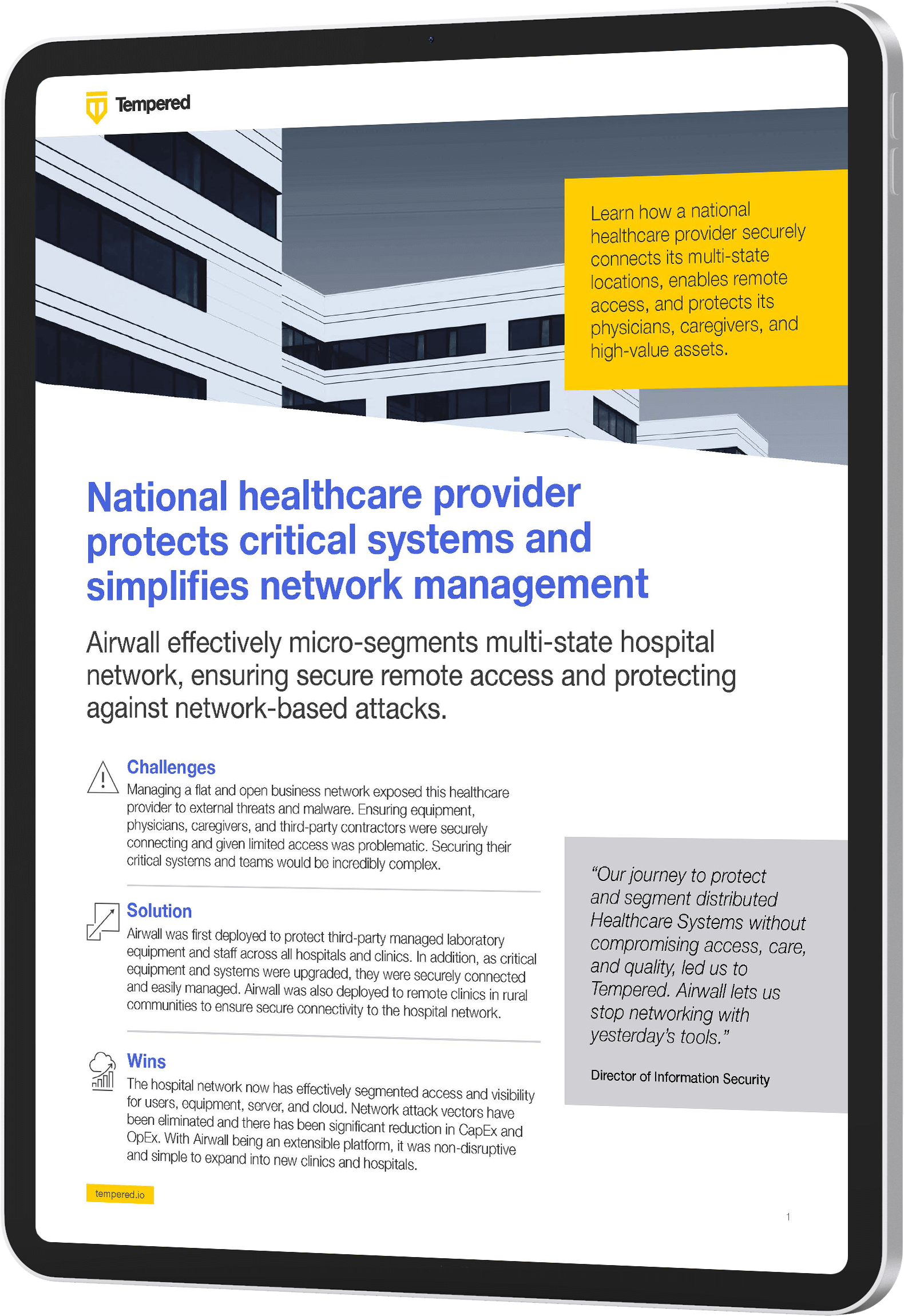 CASE STUDY
National healthcare provider protects critical systems and simplifies network management
Airwall effectively micro-segments multi-state hospital network, ensuring secure remote access and protecting against network-based attacks.
Download
Healthcare deployment compared to traditional network security solutions.

What our customers are saying
"Our journey to protect and segment distributed Healthcare Systems without compromising access, care, and quality, led us to Tempered. Airwall lets us stop networking with yesterday's tools."
— Director of Information Security, Healthcare Organization
"Airwall has been a game-changer for our organization. It effectively limits our cyber-risk, has been easy to deploy across our hospitals and clinics, and protects our physicians, caregivers, and patients."
— Director of Information Security, Healthcare Organization